Is It A Good Time To Buy A House Post-pandemic In Northern California? 
The newest statistics from the California Association of Realtors (CAR) shows that a lack of supply is creating a lot of pain for buyers and renters in the state. While strong buyer interest continues to fuel housing demand, a scarcity of available houses is the rocket fuel driving prices upwards across the state. Due to a scarcity of homes for sale, market rivalry is at an all-time high, with a record number of homes selling for more than their asking price in March
Home prices and sales are up significantly year over year. Despite this horrific pandemic, a serious housing scarcity, and a declining, closed California economy, the home market remains hot. We live in difficult economic times, to say the least, with massive unemployment and an unstable stock market, so you might assume buying a home is the last thing on your mind. However, as Consumer Reports says, with a little ingenuity and willingness, now may be the best time to buy.
Benefits  of Purchasing a Home Post-Pandemic 
It's actually not a horrible time to buy if your employment is steady and you have some savings. There will be chances available that did not exist even a few months ago. While navigating today's real estate market can be difficult, Consumer Reports believes there are certain advantages to buying homes now.
There is less competition. Since the first week of March, mortgage applications have dropped by 35%, indicating that there are fewer buyers in the market right now.
Interest rates are low. In April of this year, the average 30-year fixed mortgage rate was slightly under 3.5 percent, the lowest since 1971. Keep in mind that your credit score will determine whether you are able to obtain the best potential rate.
It's an excellent time to buy if you know you need to buy a house for 10 or more years. If you're having trouble coming up with the 20% down payment and aren't sure what you actually want, you may have to wait until some of the "hot" has dissipated.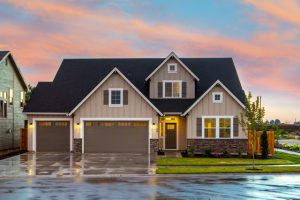 Many experts believe that the property market will be strong again in 2021. They expect increased demand from buyers who put off buying a home because of the pandemic, existing homeowners who need larger spaces to accommodate parents who work from home and children who attend school virtually, and condo owners who want to avoid being exposed to the virus by moving to single-family homes. In 2021, the ability to digitally tour properties and close on purchases will make buying a home easier.
Young adults drove the surge in home purchases in 2020, with millennials accounting for 38 percent of all home buyers. Higher-earning people were also responsible for more property sales in 2020, as they were often less affected by the pandemic's financial consequences.