November 19, 2021 | Sexton Real Estate Group
If you are looking for your first home or if you are moving to the Bay Area, there are a few things that you need to know before house hunting. The SF Bay Area is one of the most expensive areas in the country, so it's important to have realistic expectations about what can be found at any given price point. Here are five secrets that you might not have known about house hunting in the San Francisco Bay Area!
1. Mortgage Pre-approval Strengthens Your Buying Credibility
It shows that you are financially responsible enough for them to lend money to purchase a home, which means they'll consider it less risky compared with other buyers who haven't been approved yet. In fact, some sellers will only work with people whom their lender has pre-approved because these buyers tend to make higher offers.
Pre-approval also demonstrates good faith on your part since it takes time and effort to get through all that paperwork and documentation requirements which protects the seller's interest as well. Mortgage Pre-approval also shows the following:
A mortgage pre-approval means that you have qualified for a loan.
The lender will approve your loan at their discretion, depending on how much money they are willing to lend you and what the current lending guidelines are for this type of house purchase.
If the worst happens, and your first choice isn't available for some reason, having a preapproval letter in hand will speed up the process of finding another house since it shows sellers what kind of financing is on offer.
If there is no financing available or if it takes too long, then sellers may not want to wait around until the buyer can get approved before selling their house to another party who already has an approval letter in hand.
2. Look For Houses Below Your Budget
San Francisco is one of the most expensive places to live in the United States, if not the world. This means that housing costs can be quite high even outside city limits, especially first-time house hunters who are looking for a less pricey area to live and commute from. Some tips to keep in mind:
Have an idea of how much money you would like to spend on your dream home before going out searching.
It's always best to look at homes below your budget because houses often sell above asking prices within just days of being listed – even if they're priced under market value!
If you want to avoid spending more than your budget on housing costs alone (not including transportation), then it's best that you check out houses well under what you'd like as an upper limit.
There are a large number of buyers who pay more than their desired house price. This is because they do not consider all the available alternatives for houses within their budget. You should try to make sure you always have at least one alternative in your list of potential homes before deciding on a particular property.
Moreover, if you find that the home meets your requirements and fits well into your budget then go ahead with it even if there might be better options out there from different sellers that would save money for you or offer some other benefits as well.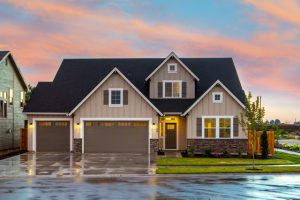 3. The Best Time Of The Year To Go House Hunting In San Francisco Is During The Winter
Historically, house hunting in San Francisco peaks during the months of January through March. This seasonality makes sense considering most people want to relocate before the summer hits but it's also important for buyers and homeowners alike because inventory levels are high enough to make finding your dream home a little easier than usual.
Summer and fall are also popular times due to temperate weather conditions, but there can be an influx of interested buyers that makes it harder to find a desirable property.
4. Hire A Real Estate Agent When House-Hunting In San Francisco
It is not mandatory, but hiring an experienced and reputable realtor can be extremely beneficial during the home buying process in San Francisco. How can a real estate agent help you?
A good broker will have plenty of experience with this competitive market and will know what you should expect from different neighborhoods as well as which homes are likely to attract multiple offers.
They'll help you set up appointments with sellers' agents so that you don't waste time viewing properties available only on the private market or unrepresentative listings for which there's little chance of actually closing a deal.
They may possibly negotiate better terms on your behalf if their reputation has been established enough that they're willing to represent buyers exclusively.
Just remember that you must hire someone you can trust. You should always hire a realtor that comes recommended by someone you personally know through your friends or family members who have bought or sold their house before.
5. Virtual House Hunting Has Become A Thing
The current pandemic has made a lot of things virtual, faster. Virtual house hunting is when you look at homes online vs. actually going to the location. It's more convenient than physically viewing homes and can be done from anywhere with an internet connection, instead of having to find time during work hours to go see a home in person which would require taking off or weekends where family members typically want your company as well.
However, there's a downside to this method. Some potential buyers believe that they aren't able to fully experience what it would feel like living there if they haven't physically been inside or don't know how big the rooms really are.
On top of that, agents state that some buyers may not be as willing to pay more money after they see all the homes online because it's easy to compare and contrast them with other listings which might make someone think their asking price is too high. This can ultimately lead one on wasting both time and energy and give up looking altogether or go back home without purchasing anything at all if they don't like any of the options they've seen.
We hope that these suggestions have been helpful to you, and we'd be delighted to assist you in making your house hunting as painless and stress-free as possible. Please contact us immediately if you're searching for a San Francisco real estate agent that will go the extra mile.
Are You Looking to Buy a Home in the SF Bay Area?
The top real estate agency in Northern California, Sexton Group Real Estate | Property Management in Berkeley, California is a boutique real estate company specializing in residential sales for properties throughout the San Francisco Bay Area. To better serve our clients we have three local offices, one in the heart of picturesque Berkeley, one near downtown Oakland and the third in the heart of historic Lafayette, California. The Sexton Group encompasses the essence of Berkeley's charm, Oakland's history and Lafayette's family-oriented vibe all with a relaxed, down-to-earth nature. We are an amazing group of real estate agents whose wealth of experience spans more than 25 years in the industry.  Looking to buy a home in Contra Costa or Alameda County? Contact us today for your free consultation!
Previous Article                    Home                    Next Article
---
---