January 27, 2022 | Sexton Real Estate Group
Is it time to hire a property management company? If you're unsure of what a property management company does or how they can help, you're not alone. There are many misconceptions about these companies, so today we're breaking down five of the most common ones. Keep reading to learn more and decide if hiring a property management company is the right decision for you and your investment property.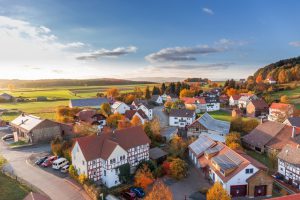 Myth #1: Hiring A Property Management Company Is Expensive
It is common to have "sticker shock" when a prospective property manager presents you with their prices. Some of these companies may be doing a great job, but they are just used to quoting high. You need to find out how much it costs them to do the job and what exactly this includes, such as inspections and maintenance requests completed by the leasing agent or contractor.
While hiring a property management company does carry an initial cost, in the long run, you could save money. Hiring a company to take care of your properties will free up time for you and your family. Because someone is taking care of everything from routine maintenance to inspections and tenant placement, you could focus on other things that bring in more income such as starting another business or investing in something else that can give you more financial rewards than renting out these units.
Myth #2: Property Management Agencies Are Incapable Of Doing A Better Job Than Homeowners
The common belief is that property managers don't care about individual property owners, but rather their own profits. While this may be true in some cases, the same can be said for homeowners who manage their jobs poorly. Homeowners are typically uneducated in the process of managing property and often allow property management companies to do what they need to be done efficiently and correctly.
Myth #3: Property Management Companies Are Only Interested In Making Money
Many homeowners believe that property management companies are only interested in making money. This isn't always true because even though fees are collected by property management, there are also other costs involved.
The company still has to pay for insurance while providing a high level of service to its clients while upholding brand standards while working with vendors on repairs or renovations. It takes time, energy, and resources to maintain property management companies. This means that each property manager is willing to work hard for their clients in order to keep them happy while making sure that the property remains well-maintained.
While it is common for property management companies to make money by charging fees, this does not mean the company is only interested in acquiring funds. Keep in mind that these companies are trying to keep your property running smoothly while generating income for themselves and their business.
Property management companies generally aim to create an environment where both parties benefit. If you're looking for a better relationship with your property manager, try choosing one who makes it clear that they care about creating mutually beneficial relationships.
Myth #4: Property Management Companies Don't Do Any Work Unless Something Goes Wrong
Some homeowners think that property management companies aren't doing their jobs unless there is a major issue with the property that requires immediate attention. However, just like any other company, these professionals are working to make sure everything is up-to-date and in good repair.
This means they may walk through common areas to check for signs of wear-and-tear or ask tenants if anything needs repair during common inspection times. Essentially, this isn't "work" per se because it's standard procedure; however, it makes the homeowner feel better knowing that regular checks are occurring without them having to be involved or even aware of what is happening at their property.
Myth #5: Property Management Companies Are Not  Accountable
Because property management companies are hired by the homeowner to take care of their property, it is easy for some people to assume that these companies aren't accountable or responsible for what they do. However, this isn't entirely true because the company takes responsibility when it comes to its clients' properties.
After all, if something does happen on the property, you have every right to hold them accountable for what went wrong. Even though they are working hard to keep your home in good shape while handling tenant issues and requests, there may be complications that arise that are out of everyone's control.
If you ever feel like your concerns are being ignored or downplayed, it's important to communicate with your property manager about the issue. There may be a simple explanation for what is happening, or you can help in finding an efficient solution.
Property management companies are generally in the business of keeping everyone happy when it comes to owning and leasing homes. They take care of common areas while dealing with tenant issues that arise during their stay in your rental unit. If you're looking for someone to handle your property well at all times, hire a company that will work hard to keep your home clean and maintained while creating mutually beneficial relationships with its clients.
As you can see, there are a lot of myths floating around about property management companies. We're here to clear the air and set the record straight. Are you still unsure if a property management company is right for you? That's okay – we understand that making this kind of decision can be tough. But don't worry, we're here to help. Give us a call today and let us answer any questions you have about our services. We promise you won't regret it!
Do You Need a Property Management Company You Can Count On?
The top real estate agency in Northern California, Sexton Group Real Estate in Berkeley, California is a boutique real estate company specializing in residential sales for properties throughout the San Francisco Bay Area. To better serve our clients we have three local offices, one in the heart of picturesque Berkeley, one near downtown Oakland and the third in the heart of historic Lafayette, California. The Sexton Group encompasses the essence of Berkeley's charm, Oakland's history and Lafayette's family-oriented vibe all with a relaxed, down-to-earth nature. We are an amazing group of real estate agents whose wealth of experience spans more than 25 years in the industry.  Looking to buy a home in Contra Costa or Alameda County? Contact us today for your free consultation!
Previous Article                    Home                    Next Article
---
---