1763 Alcatraz Avenue, Berkeley, California 94703, United States
Hoi Polloi Brewing Taproom and Beat Lounge are located in the Lorin District of South Berkeley, CA. Their beers are brewed at their off-site 7 barrel brewery located in Oakland, CA. This enables them to produce a variety of beers that will be enjoyed by a wide audience. They also host a carefully curated and rotating selection of wines and ciders.
Their rotating selection of microbrews ensures that you always have something new to sample. With life feeling too reminiscent of the "Groundhogs Day," movie, having new beers is a welcome break from monotony.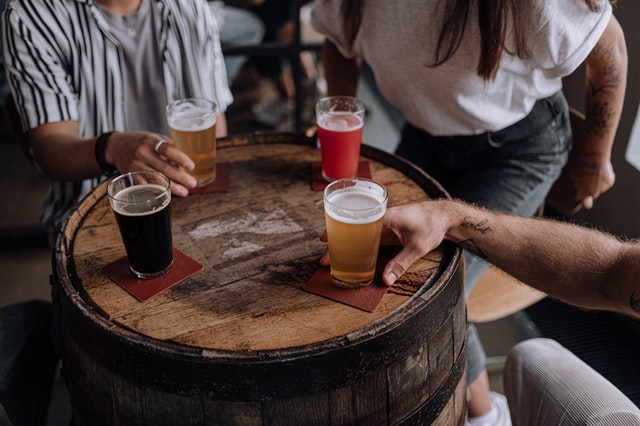 There are seven net-type tables to give some separation from Alcatraz Street traffic. The guava pineapple sour is one of the favorite sour beers of the many sour concoctions of Alvarado Street. The IPA West Coast and People's Park are pale on the spot. Worth a visit to check out this very small local brewer.
The tripela, while fragrant, did not exaggerate the sweetness and sharp earthiness that some people found in other tripelas. The smokiness of the wheat beer seemed evident in the nose and the back of the palate, but it seemed subdued in the body of the palate. The marzen tasted a touch that was richer than medium.
Hoi Polloi is a welcome exception to this. It's a cold and delicious beer. The glassware is very clean. Unfortunately, this is not the case for a lot of taprooms. They've got a good selection of beers from stouts to sours to hazy IPAs. The music is a nice mix of beats. The room is small with limited seating, but, given the real estate in the Bay Area, it's really nothing unusual.
From the moment you step in, you will be welcomed with a beautiful and comforting smell of truffle oil popcorn (complementary). The service is great, the beer selection is on the spot, and the vibe is inviting and cozy.
The service is friendly and always welcoming. All the bartenders here are super chilly and always nice. The atmosphere here is not pretentious at all. Plus, they allow you to take your beer in to enjoy your beer.