37°51'05. 122°07'47. 1100, Donald Drive, Moraga, California 94556, United States
Mulholland Ridge Open Space Preserve, site of the Mulholland Ridge Trail, is an open space area of 250 acres situated along Donald Drive at the Orinda and Moraga border. If you're looking for panoramic views of the valley area and Diablo Hills, this is your pawfect walk! Each day the park is open one hour before sunrise until an hour after sunset. The rules of the park and trail state that dogs on the paved trail can be off-leash, as long as they respond well to voice commands.  You can get there through the park starting at the Hacienda parking lot and heading up the paved off-leash path when you're ready to tackle the roughly 1-mile long paved path.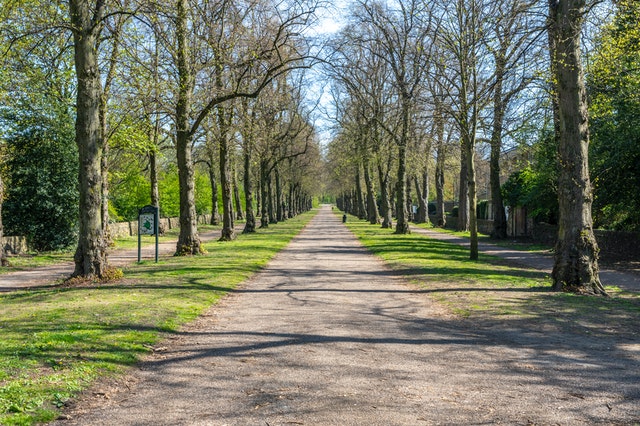 You can explore the side trails from this area, and meander downhill back to your car. On one side of the preserve you can find the grazing cattle along the trail. There's no cattle on the side of the water tower if you want to stop them. Which direction you want to reach the trail, you'll find breathtaking views of the Moraga Valley and the Diablo Range. While the incline to the elevation is uncertain, it is considered a fairly easy climb. However, the ridge is high so keep your dog close to you or on a leash if you're worried they could get too close to the bottom. 
There are trash cans and running water near the water tower on the Mulholland Ridge Trail and Park, as well as toilets at the neighboring Hacienda de las Flores Park. However, the bathrooms are located in the main building, and they are only accessible when that building is open. To get to the trail, you can start from the parking lot at Hacienda and follow the signs leading up the hill behind the main building. On top of the Hacienda trail is a doorway. Exit at this gate and turn left onto Donald Road, then head past the gate which is the top section entrance. The path that you need to take up the hill is largely paved, and takes you about half a mile to the water tower of Mulholland, where you can reach the trail. Same way it would take you out.
Trail Features: 
Easy Incline, Mountains
Scenic, Wildflowers
Cautions & Considerations:
If it is warmer, it is better to walk this trail, because there is very little shade available. There are areas of the park which require leashes. Monitor the signals around the park attentively. Elevation gain info is unavailable for this trail.